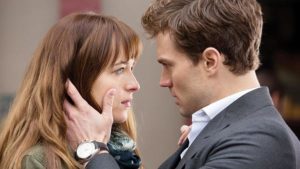 There are no words to describe how excited I was to win tickets to the Fifty Shades of Grey Premiere, #FiftyShadesFirst. I don't know how it happened, but from uncertain about the books I became a true fan girl. I drank the Koolaid and I'm proud of it. I'm one of the few who didn't think Charlie Hunnam was the right casting for Christian Grey and loved Jamie Dornan and one of the few who liked Dakota Johnson right off. Even though he and Dakota were both unknowns to me, I was hooked. And when I saw the movie poster of them together, the one on the book cover … I redrank the Koolaid. Happily!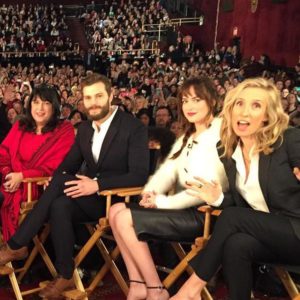 So now you know where my head was going into the movie. So … What was the day like?
So many bloggers already described the morning but I'll sum up quickly and give you pictures! We picked up our tickets – PRIME SEATING – thank you very much GUILTY PLEASURES BOOK REVIEWS for the experience! We walked the grey carpet, passed the movie posters and images and picked up a gift – a replica key to Christian's Red Room of Pain as Ana calls it. Squee! I'm trying to decide where to give it a place of honor! They served hors d'oeuvres and popcorn and we took our seats. I met Kristen Proby and Laurelin Paige (cue the fan girl SQUEE on all sides).  The TODAY SHOW was filming so many of you saw this from the other side … Seeing the stars in person was amazing although with the screaming and standing fans, very hard to see. When I caught the clips later, I fell in love with Jamie and Dakota even more. EL James was amazing and gracious with her readers. Sam Johnson the director was awesome too.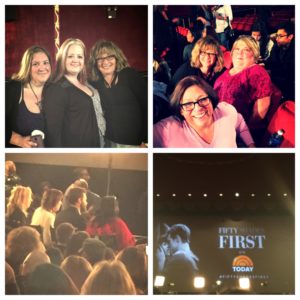 THE MOVIE Grade – FIFTY SHADES OF FABULOUS!
How's that for a review? If you're on the fence about Dakota as Ana, don't be. She owned the part. She played Ana like she was born to be her. She gave her life and depth and humor (oh the scene where she drunk calls Christian from the bar is priceless) and the negotiation scene … she owns him. And Jamie? He's Jamie. Personally I wish he was warmer and more excited in the interviews but that didn't impact how he played the part. He nailed Christian Grey. Secondary characters? Perfect. Kate? Adorable yet tough and strong. Elliot? Laters, Baby! Loved him. I could go on but I won't spoil things.
I can't find anything negative to say except I wish for more! There were a few scenes in the book that touched me personally and some of those were missing but there is only so much you can squeeze into a movie and the way they condensed the time frame to make it work was perfect. Awesome.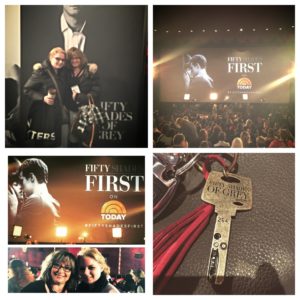 And the icing on an already fabulous cake? THERE WILL BE MORE! Fifty Shades Darker is filming in June 2015 and will release March 2016. Fifty Shades Freed is next. So say the director and the stars and even better, Universal Studios. I say, bring it on!