How exciting! I have a giveaway for my pal Toni Blake's new Coral Cove book/series! I love Toni's books.  She's an auto-buy/auto-preorder for me! And she's giving away an ARC  (Advanced Reading Copy) here first! But if you don't win, you should definitely preorder and read anyway!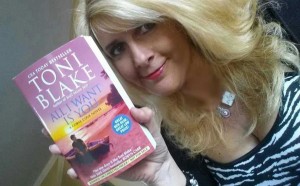 ALL I WANT IS YOU (out 5/27/2014)
Sometimes you have to create your own destiny . . .
Christy Knight grew up in Destiny, Ohio, but lately she feels that her future lies elsewhere. Her parents are gone and the beautiful jewelry she creates doesn't pay the bills. Maybe it's time for Christy to grow up and find a guy who's smart, sexy, and solvent. Her rugged handyman neighbor fits the first two categories, but he's all wrong for her. If only he didn't have such captivating blue eyes.
Wary of trusting others, Jack DuVall hasn't been entirely honest with Christy. He's not really a handyman. He's not really broke. And sharing the long drive to visit her beloved grandpa isn't just about gallantry—he finds gorgeous, feisty Christy completely irresistible.
When secrets are exposed, Jack and Christy struggle to find their way back to one another, but the quirky seaside town of Coral Cove could prove the perfect place to find a red-hot destiny of their own.
HOW TO ENTER CONTEST: Entering to win is simple – just go "like" her Facebook page, then come back HERE and leave a comment on this post letting me know.  The contest runs today, Tuesday the 11th, until midnight EST.  Feel free to share with your friends, and check back tomorrow to see if you've won! *Winner will be posted HERE and on Facebook!
**Yes, sorry you must be on Facebook in order to enter this contest.