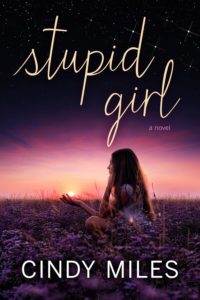 Hi, all. If you remember, this past Saturday, I recommended a book by CINDY MILES. As I said then, Cindy wrote an amazing, special book called – STUPID GIRL – which falls into the New Adult category – and though it's not typically what I read, this one BLEW. ME. AWAY. Here's the quote I gave on the book:

"A raw, beautiful, poignant story about pain, heartache and first love. I couldn't put it down." Carly Phillips, NY Times Bestselling Author
Please welcome Cindy today and read through for her generous giveaway!
Hi Everyone! It's so great to stop by for a visit. Thanks very much to Carly for the invitation, and for the sweet words about my debut New Adult romance novel, Stupid Girl! I'm extremely proud of it and excited about taking an even deeper dive into the world of Winston College in the next two books we have planned for the Stupid in Love series!
The first romance novel I ever read was Apache Flame by Janis Reams Hudson. The cover was striking, the plot was right on, but I couldn't understand why THAT story, out of the gazillions I had read and loved, stuck out to me for so long. Years later, I figured it out: It was the characters. They came to life on the page, had real issues, real emotions, and caused real reactions within me as a reader. And as an author, I've tried to take that experience to every book I pen. Including Stupid Girl.
The title seriously belies the heroine, Olivia Beaumont; she's anything but stupid. But the summer before her senior year in high school, Olivia's boyfriend slips something in her drink at a party and the rest of the evening is a nightmarish blur. The cards are stacked against her when his well-connected father manages to sweep everything under the rug. Olivia is ostracized by her peers, but manages to rise above it all. She garners a highly coveted scholarship to an astronomy program at Winston College, and leaves her problems behind—or so she thinks…
The moment Olivia steps onto the lawn of her dorm, Brax Jenkins knocks her down while diving for a "well-timed" football pass. Cocky, charming, and covered in ink and scars, Brax doesn't look like your typical college jock. Raised in the foster care system in South Boston, he learned the hard way how to survive. As their relationship slowly grows, Olivia discovers something way deeper in the depths of Brax's crazy blue eyes than anyone else sees. And the more Brax gets to know the unconventional Olivia, the better of a person he wants to become. But because of a stupid fraternity dare he's eyeball-deep in, he may lose her forever.
Stupid Girl is about falling in love for the first time. It's about humiliation. Survival. Heartache. And finding strength. It's about making choices that just may have been the stupidest ones of all—or not. It's about family, trust, loving who you are and not who everyone else wants you to be. It's really and truly about characters. And I hope you enjoy them!
The next installment to the series, Stupid Boy, will release Feb 3, 2015! You can find me on social media:
Website: www.cindy-miles.com
Twitter: @cindymilesbooks
Facebook: www.facebook.com/officialcindymilesfanpage
Carly, thank you again for your graciousness in having me visit your blog! Such an honor! J And to show you all just how excited I am, check out my Amazon gift card giveaway below. I hope you'll use it to purchase some awesome summer reads!