Doing special projects, like Invitation to Eden, has allowed me to meet authors I've always admired. Today, I'm lucky to have Erotic Romance Author, Opal Carew here to talk about her newest release (and to do a giveaway!).
WELCOME OPAL!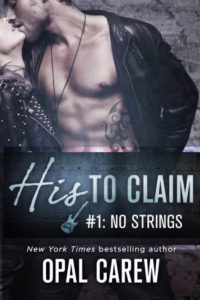 I am so excited to be writing a guest blog for Carly today – but she is a hard act to follow! So I want to start by sharing the news that the first two installments of my erotic serial novel His to Claim are being released today (June 3rd)!
HIS TO CLAIM is about Rafe and Melanie – a rock musician and head of a multi-billion dollar business and his former assistant. Melanie had always been timid, almost preferring to blend into the wallpaper, but also has harboured a secret crush on Rafe for years. But, when she decides to leave her shy exterior behind and live out her own sexy bucket list, the two are thrown together in a whirlwind affair that pushes both their boundaries.
His to Claim  (# 2 Savage Kiss)
And I'm happy to say two characters from my His to Possess erotic serial make guest appearances in His to Claim too!
In particular, I really just can't get enough of one returning hero – Storm! I liked him so much that I wrote a prequel to His to Possess called Taken by Storm that was released in the New York Times Bestselling Unraveled Box Set. And I was thrilled to be able to explore the character of this sexy biker rock musician even more in His to Claim. I fell in love with Storm as I was writing him, and I think my readers did too!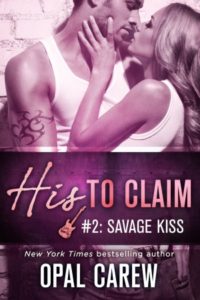 But what is it about rock musicians that we just find so irresistible? Is it their bad-boy rocker appeal? Pure musical talent? Impending fame and fortune?
For me, it's the allure of adventure and freedom! I could just hop on a tour bus with Storm and go anywhere (or park anywhere, if that's what he wanted – haha!). Travel the world, watch him dedicate songs to me in a different town every night. That's the dream, right? And that may just be what Melanie is after too….
But Carly and I want to know what your opinion! What do you think is the sexiest thing about rock musicians?
I will give away a digital copy of Taken By Storm to one lucky commenter.
 Carly, thanks for having me here!
As a New York Times and USA Today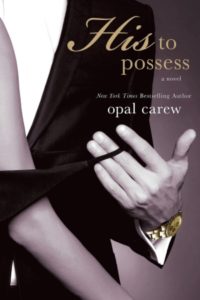 bestselling author of erotic contemporary romance, Opal Carew writes about passion, love, and taking risks.  Her heroines follow their hearts and push past the fear that stops them from realizing their dreams… to the excitement and love of happily-ever-after.
You can learn more about Opal and her books on her website, or by following her on FB or twitter .