Today I thought I'd give you insight into a few stories, some old, some new:
MIDNIGHT ANGEL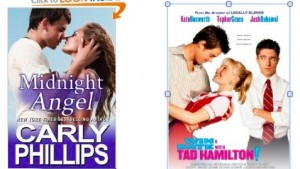 Fun Fact: This story is my ode to the romantic comedy/movie Win a Date with Tad Hamilton with the luscious Josh Duhamel. In a nutshell, Midnight Angel is about a Hollywood hunk who returns for the one who got away.  Can his unexpected return reignite their love  … or does happily ever after only happen in the movies?
Kindle   Nook    iBooks    Kobo    Amazon Print     BN print
THE RIGHT CHOICE
Fun Fact: The heroine in this story's name is Carly.  I wrote this book before I ever sold my first book to Harlequin and took the pen name, Carly Phillips. When I sold this story originally, the publisher thought it was awkard to have the name Carly for the heroine even though I was publishing it under my "real" name, Karen Drogin.  (see original cover!)  When I got the rights back and republished, I gave the heroine back her real name, Carly Wexler.  This is an unexpected love triangle between brothers!  Advice columnist Carly Wexler is convinced she can map out her path to happiness and that includes marrying her best friend.  No sexual sparks? No problem, or so she thinks.  Until Mike Novak, her fiance's brother arrives for the wedding.  Carly has never experienced desire like Mike ignites inside her and it shakes everything she's ever believed in.  Add Mike's determination to stop this wedding of mismatched opposites and Carly is forced to reevaluate her best-laid plans.  Can she accept that her unexpected love for Mike is the right choice for her after all?
Kindle     Nook    iBooks     Kobo     Amazon Print     BN Print
I'll save a few for another time, but I should also mention that my current book, DARE TO LOVE, has BUY LINKS on the right side of the page … and if you like stories HOT, Ian Dare is for you.  Fun Fact: Ian and Dare to Love come from my reading habits of erotic romance! 
How sizzling is Alex in DARE TO DESIRE, the next in the series?  Scorching!  Just ask the heroine, Madison.  And DARE TO DESIRE is up for PREORDER at Amazon, also on the right side of this page, and iBooks PREORDER coming soon.  On April 10, 2014, you can buy Dare to Desire in ALL formats, eBook and print everywhere!
What's your favorite OLDER book of mine? Curious minds want to know!