Last … but by no means least is Lauren Hawkeye. Lauren is a force of nature. She can do so many things at once and do them well! She invited me to the Invitation to Eden series, she created InkHeart Authors and she loves writing in these Romance Kindle Worlds – and it shows in the story. You will love THE BILLIONAIRE'S DARE and this visit into the Dare world!
THE BILLIONAIRE'S DARE by LAUREN HAWKEYE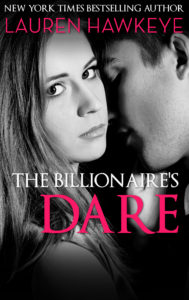 THIS IS A NEW STORY FROM CARLY PHILLIPS' DARE TO LOVE SERIES VIA KINDLE WORLDS.

From New York Times and USA Today Bestselling Author Lauren Hawkeye/ Lauren Jameson…
What happens in New York…
Evangeline Wyatt, the brand new "team behaviour manager" for Miami Thunder, doesn't have time for a relationship. At least, that's what she's told herself since being burned by one of the Thunder's biggest playboys. It's the height of humiliation when she finds herself stuck accompanying said ex to a New York kink club to keep him out of the tabloids. But when she meets a sexy, slightly familiar looking stranger with whom chemistry instantly sparks, she finds herself letting go… only to be reminded why her rules were there in the first place.
Nick Aitken is the star rookie of the New York Vikings, a team with a longstanding rivalry against Miami Thunder. At first he approaches the admittedly delectable woman only because she's with one of his biggest opponents. But what ignites between them is more than he can resist…
Evangeline is certain that they're all wrong for one another. Nick's not so sure. But he'll do anything for a second taste…
Anything. "Evangeline, I dare you…"
NOTE:
As the world is licensed to Amazon, the books are available on Amazon only. If you aren't a Kindle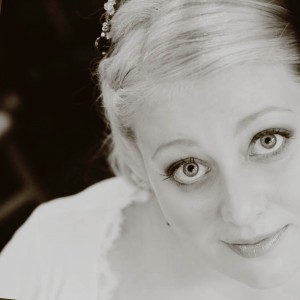 user, no worries! You can still read the stories on the FREE Kindle APP that you can download on your computer, smart phone or tablet. DOWNLOAD HERE!
New York Time and USA Today bestselling authorLauren Hawkeye never imagined that she'd wind up telling stories for a living… though when she looks back, it's easy to see that she's the only one who is surprised. Always "the kid who read all the time", Lauren made up stories about her favorite characters once she'd finished a book… and once spent an entire year narrating her own life internally. No, really. But where she was just plain odd before publication, now she can at least claim to have an artistic temperament.
Lauren lives in the Rocky Mountains of Alberta, Canada with her husband, toddler, pit bull and idiot cat, though they do not live in an igloo, nor do they drive a dogsled. In her nonexistent spare time Lauren can be found knitting, reading anything she can get her hands on, or sweating her way through spin class. She loves to hear from her readers!