MARCH 23rd! Mark your calendars! 6 new Kindle World Authors – Fabulously talented ladies with stories to tell!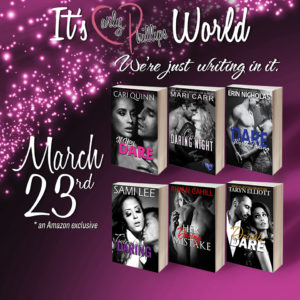 Erin Nicholas is the New York Times and USA Today Bestselling Author of sexy contemporary romances. Her stories have been described as toe-curling, enchanting, steamy and fun. She loves to write about reluctant heroes, imperfect heroines and happily ever afters.
You can connect with Erin at:
www.ErinNicholas.com
https://www.facebook.com/ErinNicholasBooks
Mari Carr is the New York Times and USA TODAY bestseller of contemporary erotic romance novels. Join her newsletter so you don't miss new releases and for exclusive subscriber-only content.
https://www.facebook.com/MariCarrWriter
Cari Quinn, USA Today bestselling author, wrote her first story—a bible parable—in 2nd grade, much to the delight of the nuns at her Catholic school. Once she saw the warm reception that first tale garnered, she was hooked. Now she gets to pen sexy romances for a living and routinely counts her lucky stars.
http://cariquinn.com/
https://www.facebook.com/CariQuinnAuthor
Sami Lee-– Cheeky Aussie. Mother of two. Author of sweet and sinful romance novels. Occasional impersonator of Wonder Woman.
More from Sami here:
www.samilee.com
https://www.facebook.com/SamiLeeAuthor
Rhian Cahill is the alter ego of a stay-at-home mother of four. Multi-published in erotic romance, Rhian, with the help of Mr. Muse, spends her days and nights writing. When not glued to the keyboard you'll find her book in hand avoiding any and all housework as much as possible.
http://www.rhiancahill.com/
https://www.facebook.com/RhianCahillAuthor
Taryn Elliot comes from the great state of New York—upstate, thank you very much. She falls in love with every one of her leading men as she writes their book, and there's always a soundtrack to match. Please visit her at:
http://tarynelliott.com/
https://www.facebook.com/TarynElliottFic
NOTE!  PLEASE READ!
As the world is licensed to Amazon, the books are available on Amazon only for KINDLE ONLY. If you aren't a Kindle user, no worries! You can still read the stories on the FREE Kindle APP that you can download on your computer, smart phone or tablet. DOWNLOAD HERE!
US READERS ONLY – this is OUT of my control. If you live outside the US and want to read these books PLEASE write and let Amazon know there is interest!"