I don't remember how or when I met Mari Carr. I feel like I have always read and loved her books and have been mentioning them here and on my FB page. I am so honored to have her write for the Dare to Love world! Check out Mari's ONE DARING NIGHT!
One Daring Night by Mari Carr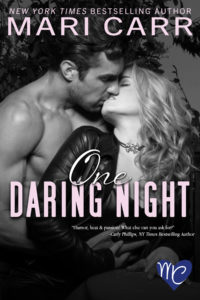 Joni's had better birthdays. Catching her boyfriend at a fancy restaurant with some bimbo certainly wasn't what she'd wished for when she blew out the candles. Newly unattached, she's ready to embrace singlehood by going wild, being reckless, maybe even indulging in some meaningless sex.
Depressed with his shallow love life, Eric Bryant is commiserating with his friend, Alex Dare, over a meal at his favorite restaurant. He vows to marry the next woman he sleeps with—just before a firecracker confronts her cheating boyfriend at the next table.
Intrigued, Eric offers to buy her a beer. Joni agrees on two conditions: She wants tequila, and complete honesty. Eric promises nothing but the truth.
After one daring night, what happens when two people with such similar hungers want such different futures?
 BUY – ONE DARING NIGHT – http://amzn.to/1HtbYWT