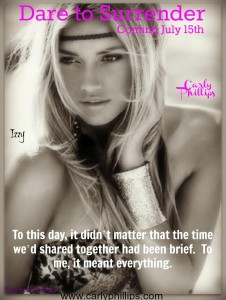 Thanks for the great Bday! My Giveaway ended with 700 Comments & 107142 Points earned from Rafflecopter. ACK! Will sort through the Bday Rafflecopter and post winners in a day or so! A lot to organize. YOU ALL ROCK. AND A SPECIAL THANKS TO THE AUTHORS WHO CELEBRATED WITH ME BY DONATING PRIZES FOR YOU!
Today we celebrate ONE WEEK until DARE TO SURRENDER, Gabe and Isabelle's story!
And I can announce that Gabe's brother Decklan is getting his story in August – DARE TO SUBMIT! (No, not in first person for those who asked).
PLEASE PREORDER DARE TO SURRENDER & SHARE INFO WITH FRIENDS!  #Ink_Heart
Preorder here:
Kindle – http://amzn.to/1kHRscw
iBooks – http://bit.ly/1o0hk6V
Print – amzn.to/1kjgKc5
Available everywhere July 15th including Nook & Kobo & Google Play!:snoopydance:
PS – an FYI – all your comments are suddenly going to my email spam folder (mac mail) with NO option to click NOT SPAM – I'm upset and frustrated and so far can't find a fix 🙁