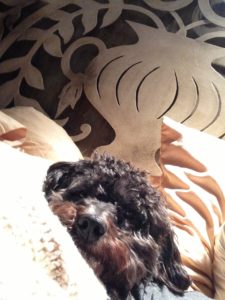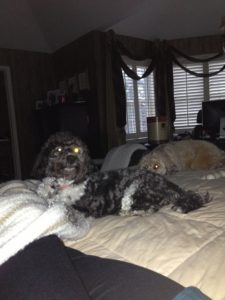 I've heard a rumor that you like my dogs … I figured I'd let them out to play once in awhile, but not today.  Today I'll tell you a bit about each of them instead.  They'll talk to you another time.
MEET BRADY – He's a 19 pound (mutant) Havanese.  If you don't know, Havanese are supposed to be toy dogs who weigh in up to about ten pounds.  Maybe 12.  Honestly? After having wheatens with big eyes, getting used to a dog who was all black, black fur, black eyes who couldn't photograph all that well was a big adjustment.  For the first year, people used to say he had a big head.  Personally I didn't think that was all that nice.  I will say it took awhile to find a haircut that fit his looks and leave it at that.  He's the sweetest boy and a lot of fun.  His favorite things are taking walks with the big dogs on Sundays with his dad and eating things that he shouldn't.  And that's all I will say on that subject.  I have doggie breath spray upstairs though.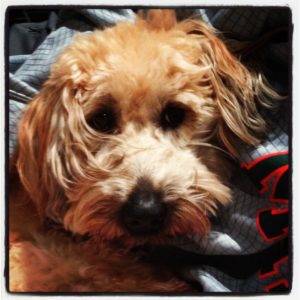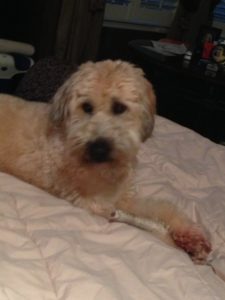 MEET BAILEY – She's gorgeous and she knows it.  She's neurotic and we know it.   She's a soft coated Wheaten Terrier. She's on puppy prozac (kidding but she is on anti-anxiety pills) and she's a daddy's girl at night.  During the day she follows me everywhere.  It's takes her awhile to adjust to new things.  At six years old, she's just starting to stay upstairs on her own.  I kid you not.  But one look at that face and she's worth all the extra work.  Don't get me wrong, Brady's tons of extra work too.  It's been said we have high maintenance dogs and although that's true, I can't for the life of me figure out why.  I'm home all day working.  My routine rarely varies. They know what to expect and the house is not chaotic.  Go figure.
Are your pets high maintenance or is it just me?