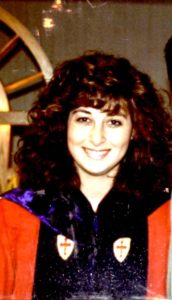 Stay at home Wife.  I bet you thought I was going to say Romance Writer.  hahaha! Everyone thinks I gave up being a lawyer to write Romance.  The truth isn't that pretty.  After 4 years of college, 3 years of law school and one year (my husband claims it was 8 months.  You can guess who's fudging here)  as an associate at Sonnenschein Nath and Rosenthal in Manhattan (a satellite firm of the Chicago office where Scott Turow is a partner), I abandoned the practice of law to … curl up in a ball.  Not exactly.  But the fact is, I couldn't hack being a lawyer.  To say I hated it is an understatement.  Did I like going to school? Yes.  I passed the NY and CT Bar Exams the first try, unlike JFK Jr, who was sworn into the NY First Circuit along with me – with Jackie O. in the back of the courtroom.  (Because I like you, I am going to humiliate … I mean share a pic of me at my law school graduation, circa 1991 – wish I could say my hair wasn't as big now, but basically I have to use a straightener to pull the underneath layers DOWN).
Did I like the actual practice of law? No.  The profession ate me up and spit me out.  I spent nearly a year with weekend migraines (yes, every weekend) – a resulting stress release from the pressure of the week.  For me, practicing law wasn't like the rapid banter and wit of The Good Wife.  It was more like The Good Wife gets snapped at, lectured, told to wait for a partner to call with work – which they would do – AT 4 PM at which point I'd stay all night (Yes, ALL NIGHT) for a closing.  Nothing went right.  I wanted to learn real estate closings.  I chose a firm who specialized there.  They hire in 3rd year of law school.  A year later when the job started, the stock market had crashed, the real estate market too and the firm was almost exclusively litigation, the one department I did not want to be in.  Anyway, yes, I had to tell both my husband and my parents who I was fortunate enough to have pay for my education that I wanted out.  I did send resumes to local firms after we moved out of Manhattan but then we agreed to start a family and I was lucky to be able to stay home.
Which segued into 4 months of vomiting and morning sickness … and ended with a beautiful COLICKY baby girl.  And that resulted in me reading to escape when I could (I was always a reader), an argument with my husband about the cost of the hardcovers I was purchasing at Waldenbooks, and my introduction to paperbacks and Romance … beginning with LaVyrle Spencer's Separate Beds, which I am certain is the book that made me want to try and write a romance myself.  10 completed manuscripts which each made rounds of rejections and revisions and more rejections … and over 7 years later and I sold BRAZEN (working title, Weekend Lover) to Harlequin Temptation, Heat and Brenda Chin, Editor.
And there you have it, how I became a romance writer.  Questions, LOL!?