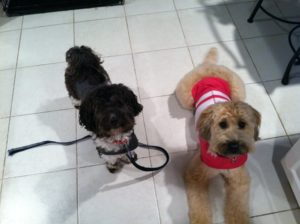 A funny story – Bailey loves her Thundershirt. She needs it for anxiety and when I go to take it off, she backs away from me. Like no, don't take it away! I actually think she doesn't like the Velcro sound when I take it off. But I prefer to pretend she just likes her jacket. LOL
Anyway, back to the day's problem. I live in a house with 2 dogs, as you well know. I really need air fresheners because I'm starting to smell dog. Not something that makes me happy. I love how my dogs smell, but dog smell in the house is totally different. I'm guessing another pet owner would know what I mean.
The problem is I'm fussy about what I want to smell in my home. Perfume gives me a headache / migraine. I lean towards Vanilla. I have tried various things:
Glade Plug Ins for one – and although they work if I put two into the kitchen which is the only area I have an issue (where the crates are) or by the front door just because I like it – it works for a short time. But they run out FAST. And they're hard to find. Even online.
My husband has brought home these flat Citrus based scent … things. I don't have the brand but they didn't work.
I spent too much money on Bath and Body Works Plug-Ins. They swore they would work. I couldn't even smell a HINT of them.
Last night at Bed Bath and Beyond we found these – SMELLS BE GONE Pet Odor Absorber Citrus Air Freshener 15 oz jars. I liked the smell when I set them up … we'll see if they work. what's funny is that they were one of those things set by the register for an impulse buy – we bought in LOL!
I don't want candles (flames/anything that burns or I have to watch/worry about). So what do you all suggest for a good smelling house? If you have ideas, I would love LINKS too! Thanks!