I admit that Sami Lee is a new to me author – but not anymore! I'll be reading her books because I know what she did in TWICE AS DARING – you will love how she gives you her Aussie spin on Dare to Love's Miami Thunder bringing them a bad boy who you won't be able to resist!
Twice As Daring by Sami Lee
Publicist Abby Lehman likes her job—until she finds herself working as a glorified babysitter for cocky-as-the-devil NFL star Sam Cormack. Sam is unpredictable, unruly, impossible—and also impossibly sexy. It has taken all Abby's willpower to keep from throwing herself at him like one of his groupies. When her boss insists she accompany Sam to a black tie restaurant opening, things heat up even further. And when she finds out Sam has also been lusting after her she throws caution to the wind and indulges in a hot tryst with him that threatens her career as well as her heart.
Sam knows he screwed up with Abby and curses his impulsive nature. Making love to her was something he'd wanted for a long time, but he should have taken things slower with her, made sure they got to know each other. Now she thinks he only wants her for sex, just when Sam's realizing she's the first woman to make him want the real deal in a long time.
Can he make her believe he's ready to put his playboy days behind him and start something real with his Miss Right?
BUY  – TWICE AS DARING – http://amzn.to/1HtaxaX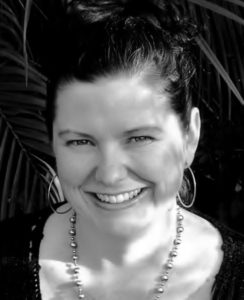 Despite falling in love with creative writing in her teenage years, Sami worked a wide variety of jobs on her way to eventual publication. As a bartender she used to scrawl snatches of dialogue on the back of flyers advertising $2 drink specials. Now she types on a computer like a bonafide, professional author–but she wouldn't mind finding a bar that still sells $2 drinks. If you know of one, please email her or contact her on Twitter or Facebook.
An author of hot, unashamedly romantic stories, Sami and lives in Australia with her husband and two stupendous daughters. If that's too far away for you, visit her webhome at www.samilee.com.