I'M SORRY THE ORIGINAL POST HAD LINK ERRORS – STARTING NEW – (if you were able to enter already, no worries it's logged no need to redo!)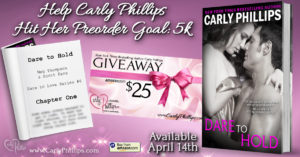 I'm announcing a huge contest – with lots of goodies!
BE SURE TO READ TO THE END FOR HOW TO ENTER — especially if you've already preordered, you can still enter! Read on.
Dare to Hold is releasing on April 14th and I'm SO excited.
To share in the excitement and to give back to my wonderful readers, I'm holding a BIG preorder campaign contest. I've set a goal to have 8,000 preorders by release day, and I need YOUR help to reach my goal.
First up – is to hit my first goal of 5,000 preorders (lofty I know!)
Once I hit that number I'll be giving away a $25 gift card to Amazon and I'll post the first three chapters of Dare to Hold on my site for everyone to enjoy!
But that's not all – I've set "milestones" to happen along the way with some terrific prizes that include:
$50 Amazon Gift Card
$100 Amazon Gift Card
$250 Amazon Gift Card
5 Early E-copies of Dare to Hold
Signed copies of ALL the Dare books
Tea/Drink/Lunch with me for one lucky winner at RWA in New York or NINC in St. Pete's Florida (don't worry if you can't attend either event, you'll have your choice of a gift card to an online retailer that allows e-gift cards for $200)

And if we surpass my preorder goal, I have a super exciting grand prize that I'll announce later.

Feel free to share this post with your friends, like this post, comment on this post – anything you can do to spread the word, I'd appreciate!