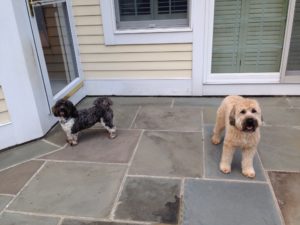 Yesterday I asked you what you all do, and I told you about my day. Umm … I left off the dogs and they are not happy with me. I spend time with my dogs, too. Lots and lots of time. I talk to them. I feed them twice a day. Make sure they have water. Get up from being really comfortable when they want to go outside. In short, I'm at their beck and call.  They have my sincerest apologies!
Today is PROM for my youngest. Now prom includes all sorts of female insanity – there's the obvious, mani, pedi, hair and makeup. And the not so obvious. Spray tan, eyebrow threading and more. I just hope I remember to pick up the boutonniere.
For me, back in the day, my friends had their hair done professionally. I always liked how I did my curly hair myself better. Still do. I also did my own makeup – same reason. So this is all insanity but I have to admit I enjoy the whole thing with my girls! Was prom as insane when you went?