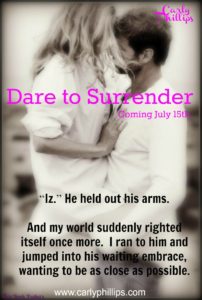 HAPPY JULY 4TH!
But it's still Friday, so there's much to say!
As you MUST know by now (or I'm not doing my job), DARE TO SURRENDER is out on 7/15 – that's 10 days!
Preorder here:
Kindle – http://amzn.to/1kHRscw
iBooks – http://bit.ly/1o0hk6V
 Print – http://bit.ly/DTSPrintAmazon
AND OF COURSE TODAY IS FRIDAY SO THERE'S A GIVEAWAY! CLICK HERE and ENTER TO WIN A $25 AMAZON GC!