Erin Nicholas is the key to this group of fantastic authors coming together to write in my world. How can I ever thank her? OMG you will love this story – two people who belong together – but he just can't play football well when he's with her? How can that be! What a fun and SEXY story!
A Dare Worth Taking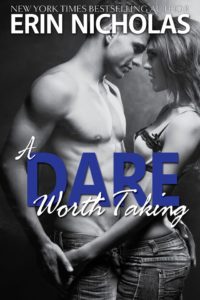 Sometimes there's no escaping Destiny…
When Miami Thunder star receiver Jax Elliot fell in love with Destiny Duncan, it felt right. He didn't care that she was a trainer for the Thunder's biggest rivals. Didn't care about his boss or hers, didn't care what the fans or the media thought. Destiny was the best thing to ever happen to him—until he started dropping the ball. Literally. And he was forced to make a choice. The woman he loved. Or the game he loved.
He chose poorly.
Months later, in need of a trainer he can trust, Jax turns to the woman he still wants above all others. Things quickly turn physical—the sex between them more explosive than ever—and the physical quickly becomes emotional. One thing hasn't changed: Jax and Des are still deeply in love. But something else remains the same as well. He still can't catch a damn ball with Destiny in his head.
It'll take a Dare—or three—to help Jax understand it's not about catching every ball…it's about knowing that the woman he loves will always be there to catch him.
BUY – A DARE WORTH TAKING – http://amzn.to/1LQbrVu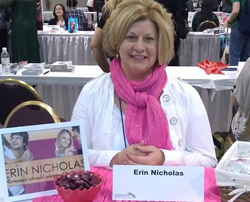 I've been reading romance since my mom first let me into her book cupboard when I was about fourteen. LaVyrle Spencer, Julie Garwood, Debbie Macomber… they took my 'happily ever after' ideas from animated princesses to real people in the real world.
I've been writing romance almost as long. Many a family car trip was spent with my head bent over a spiral notebook in the back seat. I'll confess that my very first attempts at fiction were fantasy and paranormals, influenced by my father's love of the Lord of the Rings, The Chronicles of Narnia, and the original Alice in Wonderland. If Harry Potter had been around, I'm sure he would have been on the bedtime story shelf as well.
But it wasn't long until I started writing about true love and that's where I've been ever since.
I'm so thrilled to be able to share these stories with you! I hope that they make you smile, sigh, maybe even choke up a little. Most of all, I hope that they help you believe in magical things like first kisses, the spark of passion, and the power of true love.
I'd love to hear from you! Please write me at Erin (at) ErinNicholas.com