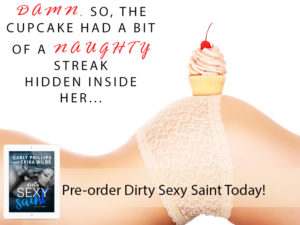 DIRTY SEXY SAINT Pre-Order Giveaway #2!!!
(And a Dirty Sexy Excerpt Below!)
PRIZE PACKAGE — 2 WINNERS will each receive a $25.00 Amazon gift certificate! When we hit our goal numbers, winner will be announced and new giveaway will be posted.
T
ENTER: PREORDER your copy of DIRTY SEXY SAINT 
Kindle – http://smarturl.it/SaintKindle
Nook – http://smarturl.it/SaintNook
Kobo – http://smarturl.it/SaintKobo
iBooks – http://smarturl.it/SaintiBooks
THEN ENTER TO WIN HERE – http://tinyurl.com/nnfkerv
If you've already preordered, enter giveaway now!
FB IS NOT ASSOCIATED WITH THIS GIVEAWAY.
No Purchase Necessary to win.
* * * * * * * * * * * * * * * * * * * * * * * * * * * * *
DIRTY SEXY EXCERPT:
"Who's the cupcake at the end of the bar?" Clay asked Tara, the bartender, in a low tone of voice. 
"I have no idea," she replied with a shrug as she poured half an ounce of Kahlua into a shot glass. "I've never seen her here before."
Leaning a hip against the low counter, Clay let his gaze stray back to the gorgeous blonde at the other end of the bar, who clearly was on the wrong side of town. "Did she arrive with anyone?" he asked curiously.
Tara added an equal amount of Bailey's to the shot glass. "Nope. She came in alone."
"Is she lost?" It was the only thing that made sense to him. 
"I don't think so." Tara's mouth quirked with a grin as she topped the drink off with a generous amount of whip cream. "She slid onto that barstool, told me she wanted the dirtiest named drink on the menu, so I served her a royal fuck. She downed the shot in one gulp, and ordered two more, then told me to keep them coming, the stronger and the dirtier, the better. After three royal fucks, she's gone through a screaming orgasm, a slow, comfortable screw, and a blow job. She's following that up with a deep throat," she said, lifting the sexually explicit drink she'd just made. 
Clay couldn't help the amused laughter that escaped him. Damn. So, the cupcake had a bit of a naughty streak hidden inside her.