Allie is a pro at writing Kindle World books! Like me, she's written for H.M. Ward's The Arrangement world and Barbara Freethy's world as well. She was a natural pick to write in the Dare to Love world. Allie's story introduces you to … ANOTHER ILLEGITIMATE DARE BROTHER! Yep, she went there! How cool is that? And all the other Dare siblings get to meet him at the same time you do! So be sure to check out:
TRUTH OR DARE by ALLIE K. ADAMS
From the USA Today bestselling author of the Roadhouse series…
He truthfully believes he's better off alone. She challenges him to live up to the Dare family name.
Adam Dare has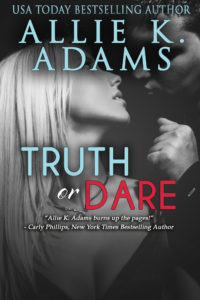 never asked for anything from his biological father. Robert Dare lives in Florida with not one but two families. While the rest of his half brothers and sisters grew up surrounded by family and eating from a silver spoon, Adam was an only child in Montana, living off the land and struggling to survive. Now a respected vet with his own practice, he's facing an insurmountable task, one where he needs all the help he can get. Discovering a pretty, yet troublesome stowaway in the bed of his truck only adds to the mounting chaos. Adam doesn't have time to deal with her during branding season, yet can't deny the overwhelming draw to her. A litter of Dares are on their way to the luxury ranch he's working at, and he can't afford any distractions—especially one with golden blonde hair and pretty cornflower blue eyes.
Amber Bigsby has lived on her own since the day after graduating from high school. After a disastrous date takes a dangerous turn, she hides in a pile of hay in the back of a truck, only to awaken to find herself at a ranch in Montana, searching for the cowboy who saved her. When she spots Adam, she's drawn to him to like a moth to a flame. Discovering he's a Dare has her torn between running away and giving in to temptation. Maybe it's time to play a little truth or dare…
If she wins, he's forced to face what it means to be a Dare. If he wins, the truth comes out. The two may not be exclusive. All bets are off when love is on the line, especially when playing…
TRUTH OR DARE
This story can be enjoyed without prior knowledge of the "Dare to Love" world created by Carly Phillips. However, it's best served with a healthy dose of the other Dare stories on sale now. 
NOTE:
As the world is licensed to Amazon, the books are available on Amazon only. If you aren't a Kindle user, no worries! You can still read the stories on the FREE Kindle APP that you can download on your computer, smart phone or tablet. DOWNLOAD HERE!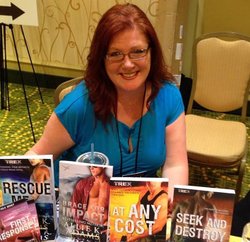 Allie K. Adams is a USA Today bestselling author and writer of several award-winning stories. Having previously served as a reserve deputy, Allie has firsthand experience in the dangers she writes about. She is known for her highly erotic, deeply intense suspense romances, and on most days can be found in front of her computer saving the world one sizzling story at a time. She grew up in Seattle, and currently lives in southwest Montana with her crazy family.