Avery Flynn writes "smart, sexy romance" that I love to read. She's one of the warmest most engaging women and we met at RWA through mutual friend Robin Covington and we've been in touch ever since. Avery brings you a sizzling story sest in the Dare to Love world of the Miami Thunder. You won't want to miss it!
HOT DARE by AVERY FLYNN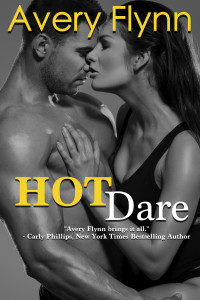 He shows some of his best moves off the field.
 Hell is a Miami Thunder fan cruise to the Bahamas—at least, that's how Colt "45" Butler sees it. But with his job as the team's starting linebacker in question, he's willing to do whatever it takes to prove he's a team player. Plus, the prospect of having his one-night Vegas fling, Angie Diaz, as his VIP liaison for the cruise just might make the whole ordeal tolerable. All he needs it to get her back in his bed for some Vegas-rules fun on the high seas. 
Cheap wine and expensive ice cream, that's how anyone fool enough to get involved with a Thunder football player always drowns their sorrows after getting dumped. Angie Diaz isn't about to become one of the many—no matter how close she got to the look-but-don't-touch line with the hot linebacker. Mixing business and pleasure with Colt is one dare her heart can't afford to take…but being with him day and night is making is a dare she can't resist.
NOTE:
As the world is licensed to Amazon, the books are available on Amazon only. If you aren't a Kindle user, no worries! You can still read the stories on the FREE Kindle APP that you can download on your computer, smart phone or tablet. DOWNLOAD HERE!
Avery Flynn has three slightly-wild children, loves a hockey-addicted husband and is desperately hopi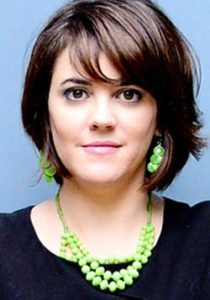 ng someone invents the coffee IV drip.
She was a reader before she was a writer and hopes to always be both. She loves to write about smartass alpha heroes who are as good with a quip as they are with their *ahem* other God-given talents. Her heroines are feisty, fierce and fantastic. Brainy and brave, these ladies know how to stand on their own two feet and knock the bad guys off theirs.
Find out more about Avery on her website, follow her on Twitter and Pinterest, like her on her Facebook page or friend her on her Facebook profile. She's also on Goodreads and BookLikes.
Join her street team, The Flynnbots, and receive special sneak peeks, prizes and early access to her latest releases!
Also, if you figure out how to send Oreos through the Internet, she'll be your best friend for life.