Melanie Shawn writes emotional romance that is always compelling and hot … I love her stories and I was thrilled she said yes to writing in the Dare to Love World. Melanie takes you deeper into the programs Alex and Madison worked on in Dare to Desire … and introduces you to the man who took Alex Dare's place on the Miami Thunder after his injury – and the woman who captures his heart!
DARING ATTRACTION by MELANIE SHAWN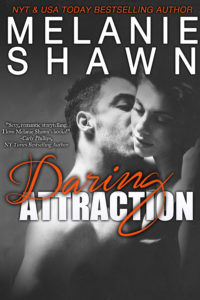 When it came to star athletes, it didn't get any hotter than Cole Carson. The starting quarterback for the Miami Thunder had game both on and off the field. But when he met Julianna, he knew that he'd have to bring more than just the status quo to the stunning, single mom's already-hectic life if he had a chance of winning her heart.
Life had tackled Julianna Perez with some pretty harsh hits, but she'd take them and more if it meant providing her ten-year-old with a safe and stable environment. Living by her to-do lists and focusing on Anthony's needs, the breathtakingly beautiful single mother never acknowledged her own until they were brought to the surface by a sexy football player.
A commanding captain on the football field, Cole knew how to take the lead in every situation and he wanted to be the solution and more for his new found love. But will he be able to navigate through the complexities and realities of being with a single mom, no matter how badly he wants to right her world? Will Julianna trust Cole enough to let him into the stable life she created and protected for Anthony and for herself?
With love on the line, Cole and Julianna will both be forced out of their comfort zones in…Daring Attraction
NOTE:
As the world is licensed to Amazon, the books are available on Amazon only. If you aren't a Kindle user, no worries! You can still read the stories on the FREE Kindle APP that you can download on your computer, smart phone or tablet. DOWNLOAD HERE!
About Melanie Shawn
NEW YORK TIMES & USA TODAY bestselling author Melanie Shawn is the writing team of sister duo Melanie and Shawna. Originally from Northern California, they both migrated south and now call So Cal their home.
Growing up, Melanie constantly had her head in a book and was always working on short stories, manuscripts, plays and poetry.
Shawna always loved romance in any form – movie, song or literary. If it was a love story with a happy ending, Shawna was all about it! She proudly acknowledges that she is a romanceaholic.
They have joined forces to create a world where true love and happily ever after always has a sexy twist!