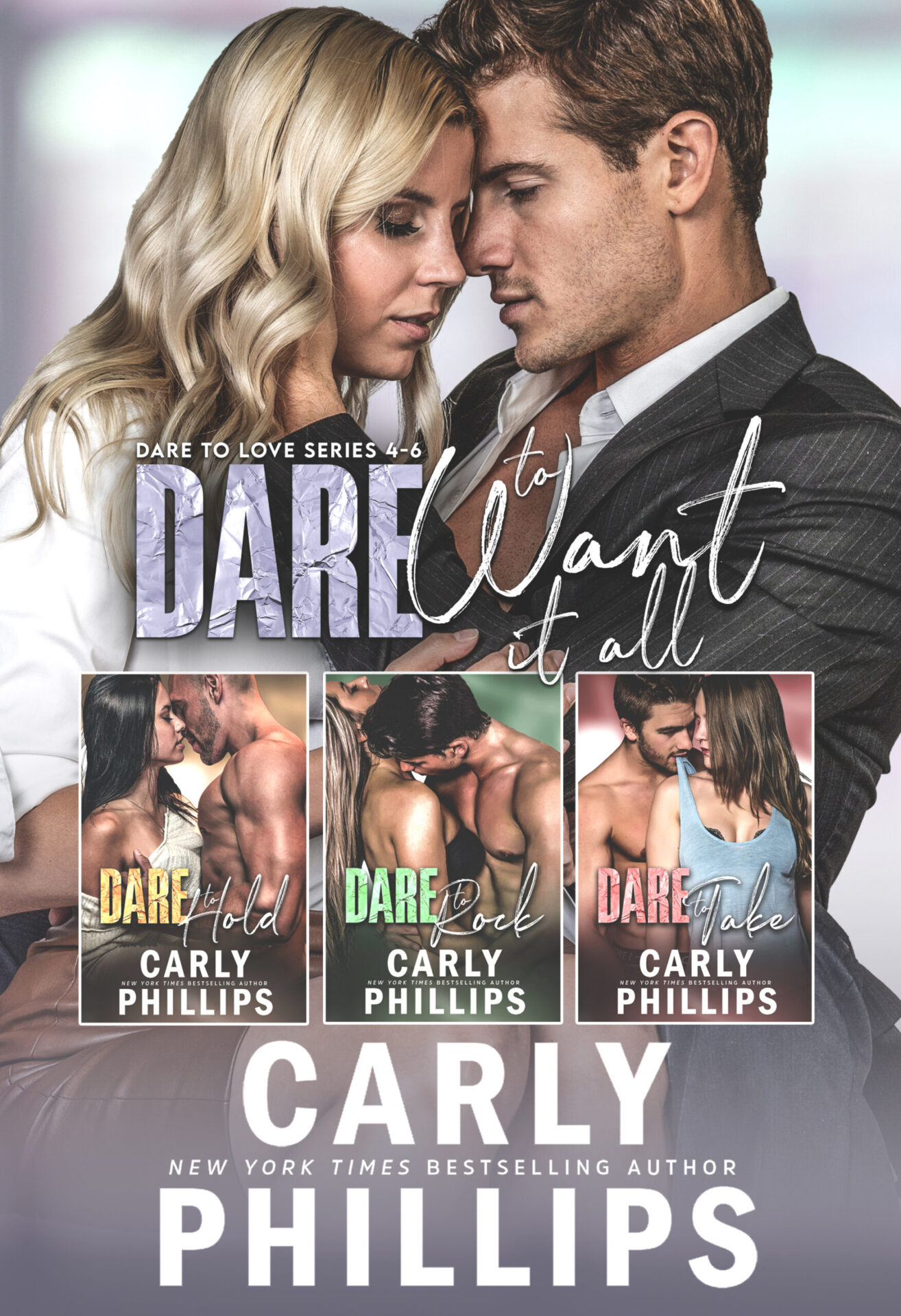 Dare to Want It All Books 4 – 6
Series:
Tropes:
Release Date
: November 15, 2017
Steamy Alphalicious Billionaire stories – Meet the DARE Family!
Books 4 – 6 of the Dare to Love Series
3 books in one amazing package! Each book stands alone.
Dare to Hold
She wants a night of hot, passionate, no-strings-attached sex…
And he's just the man for the job.
After a mind-blowing one night stand with Meg Thompson, cop Scott Dare finds himself unable to walk away. While protecting Meg from her violent ex and becoming part of her increasingly complicated life, he's falling hard for the sexy school teacher. And he can't seem to find distance. Not when their bodies respond to each other with such heated intensity and he's drawn to her unique combination of strength and vulnerability. Suddenly a one night stand is looking more like forever… until Meg's past catches up with her.
Dare to Rock
He's a Sex and a Rock & Roll superstar who can have anything he wants…
Fans adore him, women throw themselves at him, and Grey Kingston can afford everything he couldn't growing up. Yet at the height of his career, he's ready to walk away and return home to a simpler life… and the girl he left behind. Once home, he finds Avery Dare, is now a fiery, sexy woman, and she isn't ready to forgive. Still, Grey is determined to rock his way back into her life… and her bed.
Dare to Take
A one night stand.
A secret.
A mistake they tried to forget.
On leave from the army, Tyler Dare was just looking for a little fun, but his sister's best friend is off limits. But unable to deny how sexy and alluring she is, he finds it all too easy to succumb to a night of passion and heat that ends the next morning in the worst way possible.
There are just some guys you don't touch–even someone as innocent and inexperienced as Ella Shaw knows that. But when her best friend's brother is up for grabs and willing, she can't resist. After all, she's wanted him for years…
Now, Ella is stranded on a tropical island with a hurricane bearing down, and only Tyler can save her. It's his chance to make amends for the past and show the woman he's never forgotten that he's coming after her… in more ways than one.
*All Dare to Love books stand alone.
Listen to Audio
Narrated by: Sophie Eastlake
Meet ALL the Dares
Dare to Love Box Set: The Dare to Love Series, Books 1-6